Landmark Ministries received this testimony from a Muslim man in 2005.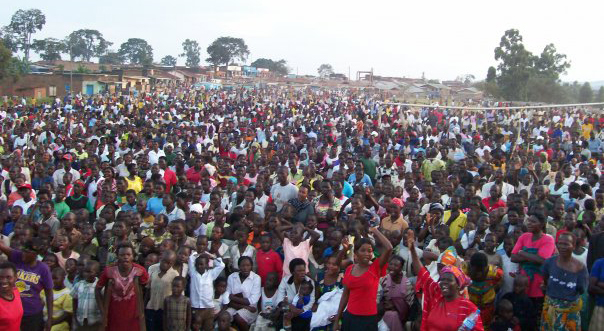 M
y name is Mustafa Musisi, age 26. I am a son of Abdullah, the chairman of the Muslim Supreme council in Mukono district. I was born a Muslim.
Three years ago, I fell very sick. I was taken to a hospital where I received very bad news. Doctor Mugerwa a heart specialist informed me that I had a worn out valve in my heart. Instead of a valve, I had a hole in my heart.
I knew it from that day that all is finished, and I had no hope. I got so frustrated and thought of ending my life. I could not end it because I feared death.
I was given plenty of tablets to depend on every day. I had lost hope in everything.
This year (2005) while I was walking around Seeta Town, I heard the sound system. People were singing. I thought perhaps there was a product promotion going on. I got much disappointment to find out that it was the born again.
Well, since I was tired and had no energy, I decided to sit and wait.
Amuzungu (Blake Mullins) who they said was from America came on the platform and preached. I was moved by the words he preached. After the preaching, they called for the people to receive Christ. I did not come but decided to attend the meeting until the end.
I attended the rest of the meetings without even failing one. I remember it was Saturday I came forward to give my life to Jesus. I felt that was my last chance. I was prayed for.
I tell you brother, since that day I stopped depending on medicines. The first time in my life to feel happy. I slept the way, I had never slept before. I joined Healing Springs Church, and I am a very happy and healed man.
In 2006, Landmark Ministries added this statement to Mustafa's testimony.
Brother Mustafa gave his life for his faith. We will miss him very much! He leaves behind a daughter who we are supporting through the ministry. He kept the faith until the end.
Gyebaleko, (Well, done.)
Brother Blake Mullins
www.blakemullins.org
And I saw thrones, and they sat upon them, and judgment was given unto them: and I saw the souls of them that were beheaded for the witness of Jesus, and for the word of God, and which had not worshipped the beast, neither his image, neither had received his mark upon their foreheads, or in their hands; and they lived and reigned with Christ a thousand years. ~ Revelation 20:4
Hi, Bridgett here.
Thanks for visiting my blog.
I hope you find these testimonies and stories encouraging.
If you'd like to receive an email when new posts are added, sign up for notifications.
And please say Hi in the comments.

Thanks & Many Blessings!