[featured-image single_newwindow="false"]
Have you ever heard of two brothers fighting over a parent's Last Will & Testament? Most of the time when this happens the rest of the family is divided as sides are chosen. Which brother is the rightful heir?
Well, that's what's going on between the Jews and the Muslims. There are two brothers, Ishmael and Isaac, fighting over their father Abraham's property—Israel.
To understand this story completely, we need to go back and examine the family tree. A tree which we are all a part of. Whether you like it or not, we as humans are all one big family. Regardless of our skin color, we are all descended from Noah who was descended from Adam.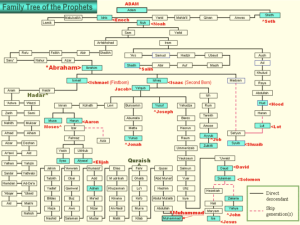 In the beginning, God created the heavens and the earth. Genesis 1:1 So, it's safe to say that God owns all the land. It is His land to do with what He wills.
During the flood, He destroyed all life on earth except those He spared on the Ark. Noah, Ham, Shem, Japheth and their four wives Genesis 7:13. In essence, He wiped the earth clean, and began again. Genesis 6:17 Unfortunately for Canaan, Ham didn't learn from the destruction of all the wicked, and his descendants would become servants to Shem's descendants.  Genesis 9:25 But we'll get to that later.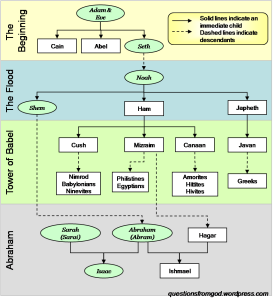 When most people read the bible, they skip over the "begats". However, I love studying genealogies. I admit that I lose myself in mathematical calculations, and have to pull myself back to the present study.
Which is Israel. Which goes back to Abraham who was born with the name Abram. The "begats" in Genesis 11:10-19 reveal a few interesting things.
Abram was born only 301 years after the flood.
Noah was alive when Abraham was born.
Shem (Noah's son) lived through all but the last 25 years of Abraham's life.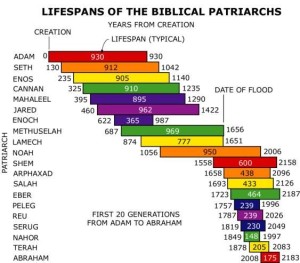 If you take all these facts into consideration, you'll see that the world's population was one huge family. Like our families today, some of these family members were godly. Some were very wicked. But unlike today, this family had a unique opportunity.
Have you ever heard the ol' saying, "The World is full of endless possibilities"? Well, this was so true for them. The world was freshly re-created. Think of the beach. How the waves come in and sweep the sand clean. Well, that was how I imagine the world during the days of Abram(Abraham). The land was washed clean, untouched, and available.
God commanded this family to go and repopulate the earth. Genesis 9:1 For some reason (I believe they were afraid of another flood), they didn't. Until, God scattered them by confusing their languages. Genesis 11:8 So now, we see a divided family roaming about the land trying to find their place and purpose.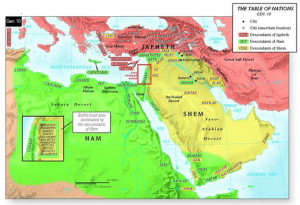 We have established that God owns the land and can give it to whoever He wants to inhabit it. But some members of this family didn't acknowledge the sovereignty of God, and they fought over His possessions.
Which brings us back to our original question.
Who did God give the land that is now Israel?
We begin answering that question in Genesis Chapter 12. We'll start there next week.
Please say hello or ask questions in the comment section below. I'll hang around here off and on all day.
Many Blessings,
Bridgett