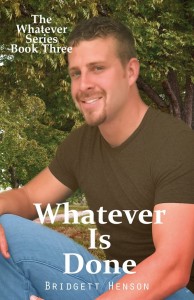 Book 3 of The Whatever Series.
A fun-loving construction foreman longs for a family,
but a widow doesn't want another husband.
He'd watched his best friend lose custody of his son—Isaac.
Ray Simmons protects himself from becoming a weekend dad,
and avoids complicated relationships.
But after meeting an orphaned, little boy,
the fun-loving, construction foreman is tempted with the idea of fatherhood.
When he's introduced to Trevor's beautiful mother,
he willingly trades the women attracted to his hardhat f
or the lady he wants to build a home with.
In memory of her loving husband,
Cindy Maxwell has suffered the life of a church widow,
and kept her appearance spotless for five years.
But when a revealed secret casts doubt on her fairytale marriage
she finds comfort and safety in Ray's arms.
He'll move earth to convince her that his love is genuine,
but will consequences of their sin drive them apart?
Is a Father's love unconditional?
Or does love forget those lost in the past?

**Each of these contemporary romance books have individual plots, and may be read as a stand alone, yet an underlying story is woven throughout this entire Christian Fiction series. The heart tugging topics of child abuse and drug use are motivations for its character driven plots in stories that take place in southern Alabama. In these new adult, inspirational fiction novels you can expect to find a life changing stories of truth, sacrifice, and love.
Also available from STL Distributions through Ingram Content Group, Spring Arbor Distribution, Amazon, NACSCORP, Baker & Taylor, Barnes & Noble, Espresso Book Machine, and Independent Retailers. Or publisher direct at
http://www.empoweredpublicationsinc.com/books.html